Since the 2000 Bundesliga report, the German league has thrived in the last decade and arguably has become the number one football league in the world.
The German Bundesliga has a fascinating structure which, for me, is ideal for Scottish Football.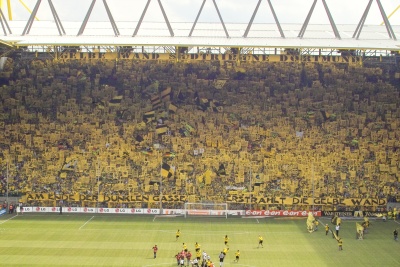 I was encouraged by Neil Doncaster's comments this week that said terracing might be re-instated at Scottish stadiums. The safe-standing sections in the Bundesliga have revamped the atmosphere's and have also increased the capacities at some grounds in Germany. Borussia Dortmund's Westfalenstadion holds just over 61,000 in UEFA competitions but in the Bundesliga the stadium can hold well over 80,000 and has given Dortmund one of the highest average attendances in the world. The club also sells over 50,000 season-tickets. Can you imagine an Ibrox, Celtic Park, Tynecastle or Tannadice with an extra 10,000 capacity due to safe-standing sections?
Bundesliga ticket prices average at around 15 Euros which is a ridiculously good price when you consider paying £22 to watch SPL matches. The "Yellow Wall" at the Westfalenstadion has an average ticket price of under £10, combine that with being able to stand with your mates and make use of the excellent catering facilities then you have yourself a stunning deal. These match tickets also have an increased value when you consider that fans can travel on public transport for free on a matchday. The overall matchday revenue for the Bundesliga clubs last season was 424 Million Euros. Quite astonishing when you think about it.
Combine that with 573 Million Euros in Sponsorship and 594 Million Euros in broadcasting revenue then you have a financially secure league. The Bundesliga clubs paid around 50% of this income on player wages which, again, shows how superbly managed the Bundesliga and it's club actually are. According to the Bundesliga report, the league brings nearly 3 Billion Euros to the German economy. Only 11 of the 18 Bundesliga clubs are in debt.
On a positive note, Scottish football has one of the best attendances per population. We do have to remember we are a country of just 5m so we won't be having 30,000 attendances at every game. There is absolutely no doubt our Old Firm, with safe-standing, cheap ticket prices and a good matchday experience, could easily be filling 60,000-70,000 every week and possibly on an Old Firm derby be pushing over that amount. Even for your Hearts, Hibs, Dundee United and Aberdeen, I think they could be pushing over 20,000 with a competitive league and these aspects from the Bundesliga model.
Despite the poor product, implementing the 'Bundesliga model' might just be the saviour of our domestic game. The product can be poor but if the football is entertaining, competitive and offers a quality matchday experience then fans will seriously buy into that.