Even with some thrilling action in Germany over the past few weeks, with Bayern narrowly missing out on a Quarter Final slot in the Champions League, Leverkusen out of the Europa League and Dortmund stumbling to the finishing line, the attention has been firmly on the managerial carousel.
If your not a Bundesliga aficionado, then tracking which managers have had the axe, and which still remain, is a fairly difficult task. Some of the sackings were expected, like McClaren at Wolfsburg, Van Gaal at Bayern and Skibbe at Frankfurt but it does seem the same coaches sacked are just popping up in a new position.
Starting in Bavaria, the champions Bayern Munich reportedly sacked Louis Van Gaal after going out of the Champions League to Inter Milan but re-appointed him until the end of the season. Van Gaal has endured a torrid season in the Bundesliga, not helped by sporadic injuries to Robben and Ribery, and they find themselves in 4th position just two points behind the impressive Hannover. It has been a major capitulation from a side that secured a superb domestic double last season and lost out in the Champions League final to Inter.
Replacing Van Gaal at the end of the season is Bayer Leverkusen coach Jupp Heynckes who will have his third spell as Bayern's main man. The 65-year-old has done a fantastic job at the BayArena with two excellent finishes in 2009/10 and this season where they could challenge Dortmund all the way for the championship. Heynckes, who has signed a 2-year-deal with Bayern, enjoyed success in his two previous stints at Bayern where he won 2 league championships between 1987 and 1991 and took over from Jurgen Kilnsmann for just a handful games in the 2008/09 season.
Leverkusen have been quick to fill the void that will be left by Heynckes and have confirmed that SC Freiburg's 46-year-old coach Robin Dutt will take over at the end of the season. Freiburg have been another one of the many impressive sides in the Bundesliga and they are in a decent 8th position at the moment. However, with the nature of the Bundesliga's bottom-half of the table, they could still be sucked into a relegation battle if they don't keep picking up points.
Dutt was appointed as Freiburg head coach in 2007 and lead his side to a promotion from Bundesliga.2 in 2009. His two seasons managing in the German top-flight with SC Freiburg, where he led
Breisgau-Brasilianer
to 14th and 8th this season respectively, have alerted a number of Bundesliga clubs including Leverkusen and their Sporting Director Rudi Voller was quick to appoint the Freiburg coach.
Qualification for the Quarter Finals of the Champions League wasn't enough for Schalke coach Felix Magath who was sacked 10 days ago. Magath was appointed Schalke's coach in 2009 after winning the Bundesliga with Wolfsburg the season earlier and impressively, led Schalke to 2nd spot in the table. This season on the other hand, has been a major disappointment for
Die Königsblauen
who sit in 10th position with just nine wins all season in the Bundesliga.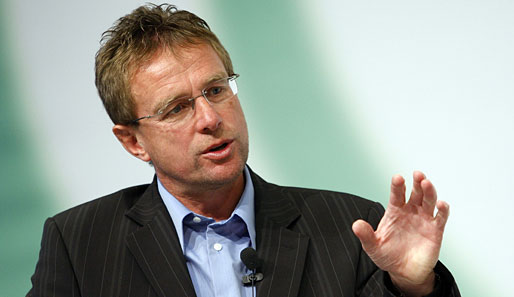 Magath's assistant coach Josef Eickhorn was placed in temporary charge of first-team reponsibilities until Monday when former Hoffenheim boss Ralf Rangnick took over as permanent head coach. Rangnick left Hoffenheim in January by "mutual consent" after he expressed his frustration following Demba Ba and Luis Gustavo's departures. Rangnick's first game on the Schalke bench will be the match at St Pauli on April 1.
Felix Magath didn't stay out of a job for much longer when he was quickly brought in to change the fortunes of under-performing Wolfsburg. The Bundesliga champions in 2009 have been occupied in a dogged relegation battle this season where they have been rarely out of the bottom-three. Steve McClaren was sacked in February but his temporary replacement Pierre Litbarski was only in charge for a month before Wolfsburg re-appointed Magath for his second spell at the Volkswagen Arena.
Hamburg have gone through a host of changes in the last few weeks with coach Armin Veh sacked along with Chairman Bernd Hoffman leaving the club as well. It has been a very average season for HSV who are in 7th position at the moment but instability inside the club has led to a number of changes at the Imtech Arena. Frank Arnesen will also be appointed Hamburg's new Sporting Director at the end of the season.
Replacing Veh is Michael Oenning who was Veh's assistant coach and will be in charge until the end of his 2-year contract at Hamburg which expires next summer. The changes at HSV have had a very positive effect on the players after a thumping 6-2 win over FC Koln with Mladen Petric netting a hat-trick on Saturday afternoon.
At the bottom end of the table, Eintracht Frankfurt have sacked coach Michael Skibbe after a disappointing season at the club. Frankfurt have been involved in the relegation battle for the majority of the season but have sneaked away from the bottom-three following a 2-1 win over St Pauli last weekend. Skibbe has been replaced by Christoph Daum - the man with the great moustache. Daum has had something of a controversial career as a coach with allegations of cocaine abuse while in charge at Bayer Leverkusen. He was subsequently sacked and enjoyed a number of spells in Turkey with Besiktas and two spells with Fenerbahce.
It has been a hectic few months in the Bundesliga and the number of changes in the dug-outs will hopefully offer some added entertainment to the league - if it actually needs that given how competitive the Bundesliga is at the moment.
Who will feel the axe next? - On current form, Jurgen Klopp?