When you think of Hungarian football, the great Ferenc Puskas comes to mind and probably their hammering of England at Wembley as the 'golden-team' went a world record 32 games unbeaten at International level.
On the road to Euro 2012, Hungary have racked up an impressive 9 points from 4 games in a group alongside Holland and Sweden. Head Coach Sándor Egervári has led Hungary to an excellent start to the campaign and the Hungarian FA's long-term vision is reaping its rewards.
From the most recent squad which played San Marino and Finland, 7 of the 21-man squad still play in the Hungarian League and have held their own amongst players from England, Germany, Italy and Spain. With a wealth of younger players, there is a sprinkling of real international experience which has blended into an ideal mix that will lock horns with Holland in the next set of fixtures.
Goalkeeper Gabor Kiraly(1860 Munchen) has notched up 78 caps, their central-defensive pairing of Roland Juhasz(Anderlecht) and Vilmos Vanczak(Sion) have a combined total of 109 caps and both are just 27 years of age. Captain Zoltan Gera is the Hungarian's household name and at 31 years of age has 68 caps and 19 goals. Two of Hungary's other midfielders, Krisztián Vadócz(Osasuna) and Balázs Dzsudzsák(PSV), both have over 30 caps each. Tamas Priskin of Watford has 29 caps and Gergely Rudolf of Genoa has 16 caps.
In total, the spine of the Hungarian side has over 300 International caps.
Not one player in the rest of the squad reaches 30 years of age. Here is a quick list of the players and ages from the team which beat San Marino 8-0, outwith the central spine:
Left back - Zsolt Laczkó(Debrecen) - Aged 23
Right back - Krisztián Vermes(Ujpest) - Aged 25 - Made debut at 19
Midfielder - Ákos Elek(Videoton) - Aged 22
Right Midfielder - Vladimir Koman(Sampdoria) - Aged 21
Left Midfielder - Balázs Dzsudzsák(PSV) - Aged 23 - Made debut at 19
Strikers - Gergely Rudolf(Genoa) & Ádám Szalai(Mainz) - Ages 25 & 22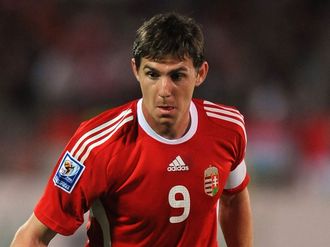 The Hungarians have reached a major finals since 1986 but have an impressive record at Youth level which has seen them qualify for a number of competitions. Other recent capped players include another 5 that fall under 25 years of age and another 7 players that have over 20 International Caps.
After 24 years of failure, Euro 2012 might just appear to be in reach of Hungary who have been starved of proper football since 'the mighty magyars' back in the 1950s in which Ferenc Puskas shone on the world stage.