With the 2010 FIFA World Cup only days away, the next month will go down in history for one of the world's heavyweight football nations as the famous golden trophy will return with the squad to its new home. Only the Brazilians have won the competition outside their own continent but that hoo-doo will surely come to an end in July with a host of European and South American nations keen on the prize.
Surprisingly, the holders head to South Africa to defend their trophy despite many people quickly writing off Marcelo Lippi's side. The Azzurri will take a host of new faces to the tournament with Fillipo Inzaghi and Fabio Grosso two of the winning squad chopped for the 2010 edition. The experienced Gianluigi Buffon remains the man between the sticks but Lippi's men look a little bit fragile in defence with Fabio Cannavaro having a relatively poor season alongside Juventus partner Giorgio Chiellini. With Daniele De Rossi, Angelo Palombo, Gennaro Gattuso and Andrea Pirlo, they have a very solid midfield which is just as strong as the majority of other squads. The Italian faithful will be relying on Udinese hitman Antonio Di Natalie to replicate his domestic form on the international stage.
Winners of the competition five times, Brazil are usually renowned for their samba football, but current coach Dunga has orchestrated a more solid and difficult-to-beat Brazilian side. All eyes will be on Real Madrid's Kaka to provide the added skill and class to a side which is mainly composed of strong, hard-working players. The centre of midfield is crucial for Dunga's men with the flying full-backs of Maicon and Andre Santos leaving gaps at the back. Gilberto Silva and Felipe Melo have been used regularly by Dunga during the qualifiers and both provide good defensive cover when needed. Eyebrows were raised when Adriano and Ronaldinho were left out by Dunga, but spear-heading the frontline is Sevilla striker Luis Fabiano who is arguably one of the most potent strikers in the competition.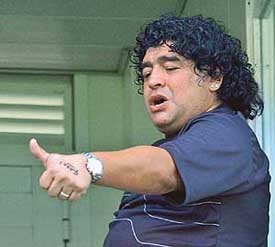 Brazil's South American rivals Argentina have stole the headlines with Inter Milan's Esteban Cambiasso and Javier Zanetti being left out of Diego Maradona's squad. The Argies qualified thanks to a 1-0 win over Uruguay on the final matchday after a stuttering qualifying campaign. The world's number one player was part of that squad, but Lionel Messi will have to quickly adapt to his new role in the International side which will likely be as a strike-partner to Real's Gonzalo Higuain, leaving Diego Milito and Carlos Tevez on the bench. There is a strong myth that Argentina are weak defensively, but I disagree. Nicolas Otamendi of Velez and Gabriel Heinze are two very good defenders and will be more solid in the full-back areas than two attack-minded players. Martin Demichellis and Walter Samuel were both present in the Champions League final which says alot for them both. A weak area could be in the centre of the pitch with Javier Mascherano and Juan Veron. Mascherano has had a poor season and really should not be in the heart of the team as I think Banega and Gago are better options. Veron has excelled for Estudiantes, but Maradona seems to rely on the former Manchester United man too much, just like in the 2002 World Cup where he performed below expectations. A guarantee though, is that Maradona will provide good entertainment during the competition.
The team I fancy is Joachim Low's Germany. The 2002 finalists always seem to pop up around the latter stages of the tournament with a very organised team. This time round, the Germans have one of the most youngest and talented squads in the competition. They usually adopt a 4-2-3-1 formation with Miroslav Klose, Cacau, Mario Gomez or Stefan Kiessling all capable of leading the line. Bayern's young Thomas Muller took the Bundesliga by storm under Louis Van Gaal and he will play on the right-side of the three. Mesut Ozil is one of the best prospects in Germany and many eyes will be on the Werder Bremen star, who has excellent skill and pace. Marko Marin or Lukas Podolski could play on the left, both offer another quick, attacking option. With this fluent attack you need a solid defensive base and the Germans can still accomodate that. Bayern's Bastian Schweinsteiger has big shoes to fill with Michael Ballack out injured, but he will partnered with Sami Khedira who is much stronger than Schweinsteiger defensively. On the back of the Euro 2008 final defeat to Spain, they will want to go one better and bring the World Cup back this year.
Spain seem to be everyone's favourites, and I can see why. Xavi, Andres Iniesta, Fernando Torres and David Villa give them probably four of the best players in Europe. However, the Spaniards will be without Marcos Senna who was crucial to their Euro 2008 success. Can young Sergio Busquets fill those boots? Also, there will be a change of manager with Vicente Del Bosque in charge rather than Luis Aragones. Del Bosque's results so far would suggest that won't have an effect on the Spanish but being away in an international competition is a different challenge to qualifiers.
By the 11th of July we will know the World Champions, but as the top stars begin to drop out through injury, the chances of many sides will be slashed. Just ask Ivory Coast without Drogba or the Dutch if they lose Arjen Robben. The Italians will have a tough job on their hands of retaining the trophy with Germany, Brazil, Spain, Argentina and England all hoping to take it back home.